University Place Gallery
142 N Dargan St
Florence, SC

This exhibit provides FMU visual arts students with an opportunity to exhibit their work in a professional gallery and experience in presenting their work according to professional practices. This year's exhibit will be in the new University Place Gallery downtown Florence. The exhibit will be held in conjunction with an exhibit by this year's juror, Adrian Rhodes.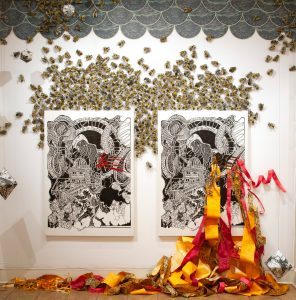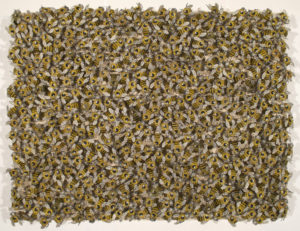 (Left: Searching for Callisto, Adrian Rhodes; Right: 400 Bees, Adrian Rhodes)
JUROR: Adrian Rhodes

Adrian Rhodes grew up in Hartsville, South Carolina. She attended Winthrop University from 2001-2005, earning a BFA in General Studio with emphasis in Drawing and Painting. While studying at Winthrop she participated in a semester exchange with the South Carelia Polytechnic in Imatra, Finland. After several years as a practicing artist she returned to Winthrop, receiving her MFA in Painting and Printmaking in 2011.
Her work has shown throughout the Carolinas, including select solo exhibitions at the University of North Carolina Charlotte, the Sumter County Gallery of Art, City Art Gallery in Columbia, SC, the Dalton Gallery at the Center for the Arts in Rock Hill, SC, and the Rebecca Randall Bryan Gallery at Coastal Carolina University. She has exhibited in juried exhibitions including Artfields, Contemporary South at VAE Raleigh, the Pee Dee Regional at the Florence Museum of Art, the Greenwood Festival of Flowers in Greenwood, SC, and the annual York County Juried Exhibition in Rock Hill, SC.
Her work has frequently received awards in these competitions, including taking the top prize at Contemporary South in 2017 and Best of Show at the York County Juried Exhibition in 2013. She exhibited at the Southern Graphics International Conference in Knoxville, TN in 2015, participating in the Sphere of Existence exchange portfolio. At the SGCI Conference in Portland in 2016 she had prints in the Trans-Dimensional exhibition and the Some Assembly Required  Exchange Portfolio. Her work was recently featured in Paper Worlds at the Spartanburg Art Museum in Spartanburg, SC.
Rhodes's work can be found in the collections of The James Ford Bell Library at the University of Minnesota, Winthrop University Galleries, Black Creek Arts Council, Southern Graphics Council International, The Byerly Foundation and The Mantissa Executive Suites. Her work is also found in private collections throughout South Carolina, North Carolina and Texas.
IMPORTANT DATES:
January 24th - February 1st
Submissions open
February 1st
Entries due before Midnight
February 11th
Notifications emailed
February 22nd
Delivery of Artwork to University Place Gallery
10AM-3PM
(please contact Colleen Critcher ccritcher@fmarion.edu to make other arrangements.) Works should be delivered no later than February 22nd to accommodate hanging)
April 17th
Closing Reception, winners announced
6-8PM
April 17th
Last Day of Exhibit
April 18th
Pickup Artwork from University Place Gallery
10am-3pm
ELIGIBILITY: Any Visual Art major, minor or Art Education major enrolled in courses at FMU within the last year (Spring 2019, Summer 2019, Fall 2019 and Spring 2020) are eligible to enter.
ENTRIES: All entries must be submitted by the artist. All entries must be original works created while enrolled at FMU, but do not have to be works made while enrolled in an FMU Art Course. Copies, studies or photographs of other artwork will not be accepted. Entries may include paintings, drawings, ceramics, photography, printmaking, mixed media, video, sculpture, jewelry and fiber arts. Up to four entries will be allowed.
AWARDS: Awards will be presented at the Closing Reception. Awards are chosen by the juror.
| | |
| --- | --- |
| 1st Place: | $500 |
| 2nd Place: | $200 |
| 3rd Place: | $100 |
| Honorable Mention | |
ENTRIES AND SUBMISSION SHOULD BE SUBMITTED BETWEEN JANUARY 24th AND FEBRUARY 1st (before Midnight), 2020. NO LATE ENTRIES WILL BE ACCEPTED.
Selected artists will be notified by email no later than February 11th, 2020.
2020 FMU JURIED STUDENT SHOW RULES & REGULATIONS
In an effort to follow professional gallery practices, University Place Gallery implements the following rules and regulations for exhibiting artists.
Failure to adhere to rules and regulations may result in disqualification of entries.
DISPLAY AND HANGING REQUIREMENTS:
TWO DIMENSIONAL WORKS:
2-D works, such as drawings, prints and photography, should be wired (with hanging wire and a d-ring), framed and ready to hang. No saw-tooth hangers or clip frames allowed. Wire should not go above the top of the frame. Frames must be free of scratches and in good condition. Glass or Plexiglas must be clean, unscratched with no broken pieces. Mats must be free of marks with clean cuts. Paintings must be gallery ready (canvas edges painted, no visible staples, wired and ready to hang). Work requiring special installation must be installed with the artist's assistance. All artwork should be labeled on the back (if it is possible to affix a label to the artwork) with the artist's name, title, media, phone number and email address.
THREE DIMENSIONAL WORKS:
If you have a piece with special hanging or display requirements or have questions regarding hanging and display requirements contact Colleen Critcher: ccrticher@fmarion.edu.
The juror, FMU visual arts faculty and the coordinator of University Place Gallery reserve the right to exclude any artwork not adequately represented by the entry image or that does not abide by professional presentation standards.
DELIVERY OF ARTWORK: Artwork must be delivered to University Place Gallery on February 22nd between 10am-3pm. If you cannot accommodate delivery during this time, please contact Colleen Critcher to schedule a delivery in advance of the February 22nd delivery deadline. ccrticher@fmarion.edu.
Failure to deliver work during the designated times will result in disqualification.
PICKUP OF ARTWORK: Artwork should be picked up from University Place Gallery on April 18th, between 10am-3pm.
Artwork not claimed by April 22nd will become the property of Francis Marion University.
CONTRACTUAL AGREEMENT AND INSURANCE: Entries will not be insured while on display at University Place Gallery. By entering the FMU Juried Student Art exhibit, the artist agrees to keep work on display for the duration of the exhibit. If for any reason the artist wants to cancel participation in the exhibit, University Place Gallery must be notified no later than four weeks in advance of the exhibit opening date.
SALES: A commission of 30% will be charged on all works for sale through this exhibit. For artwork designated not for sale, please enter "NFS" for the price on the entry form.
If you designate your work as "NFS" you will still need to enter an insurance value in the submission form. If you designate your work as "NFS" you will still need to enter an insurance value in the submission form.
QUESTIONS: Email Professor Julie Mixon with questions here.
SUBMISSION:
Files should be jpgs, no larger than 2MB each. Name files with First Name and Last Name followed by a sequence number that matches your entry form. For example, entry number one for John Smith should read as follows: jsmith1.jpg.
A maximum of 4 entries allowed per student.
If you are unsure on how to prepare your image file for submission Mrs. Mixon has created a tutorial, here.
If you need some tips for photographing your artwork click, here.